The term "Lazy Sunday" generally describes my sundays. These songs, however, will inspire everyone and anyone to be unlazy, if not by merely putting you in a haste to turn the volume knob down, in the case of the Lost Sounds' track, or by making you shake your ass/get a headache in the case of the dDamage track. :) Either way, shit is loud.
Lost Sounds:
Lost Sounds were a group from Memphis, TN(hometown overdue love), who "disbanded abruptly yet not unexpectedly in 2005" and were comprised of Jay Reatard(just now getting love on Pitchfork) on synth, guitar and vocals, Alicja Trout(who is in more Memphis bands than any other front person that I know of...they include Mouserocket, Black Wave, River City Tanlines,et.al.)also on synth, guitar and vocals, Rich Crook on drums, and the later added bass player, Patrick Jordan.
I only recently got into them after relistening to the Makeshift 2 compilation and really enjoying their track on there. Maybe I'll post it later. Visited their Myspace page and found "I Get Nervous". It was around 6 am and I hadn't yet been to sleep. I spent the next four or five hours trying to find info on them and releases available.
dDamage: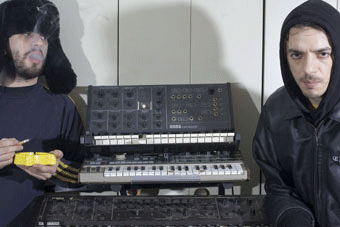 I know little of them. I just got into them last night after a Last FM friend recommended them to me. Their latest album Shimmy Shimmy Blade features a crazy mix of indie rap's finest from Bigg Jus to TTC to Doseone. Apparently, they're a duo comprised of brothers. Based out of Paris, they make crazy headsplitting music.
To be honest, there are only a handful or tracks that I really like from this vein of hiphop. I love the creativity(and album art), yet hope that one day there'll be a wunderkind rapper that gets in front of a group like this. An example of such would be that I like Dalek's music, but hate the rapper himself.
anyhow, hope you enjoy these.
Lost Sounds "I Get Nervous""
dDamage "Punkture"